WIZ-212
Fully Manageable Enhanced Converter10/100BaseT to 100BaseFX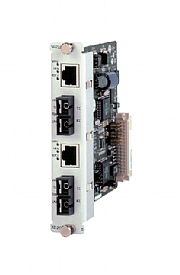 Single/Dual 10/100Base-TX to 100Base-FX converter modules
Full SNMP management (and manual setup)
Link verification functions: FEF, PONL and loopback
Power Failure Notification (PFN) - optional
In-band management support
Hot-swappable slot-independent slide-in modules for Media Wizard chassis
WIZ-212 Fully manageable dual-speed converter modules provide copper to fiber media conversion in compliance with IEEE 802.3 Ethernet standards.
Management capabilities include open/close port, speed, duplex, FEF, PONL, rate limit, loopback, user assigned names and detailed port description; link status and traffic monitoring.
Unique transparent/fast switching technology is supported -MAC address transparency with the benefits of Ethernet speed conversion, fault isolation and network extension capabilities.