WIZ-928
CWDM Multiplexer Module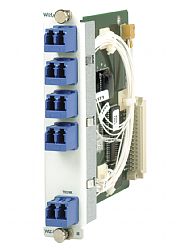 The Media Wizard product line provides comprehensive CWDM solutions that include:
CWDM Multiplexer/De-multiplexer modules – 2, 4 and 8 channel multiplexers over single/dual SM link (available with F/O link redundancy)
CWDM interface modules supporting a wide range of LAN protocols such as 100/1000M Ethernet, 155/622M ATM, ESCON, Fiber Channel, E1/T1,and more
Modules are plug-in, hot-swappable and housed in manageable 16- or 4-slot Media
Wizard chassis providing space saving (19" 3U/1.5U) CWDM solutions
Media Wizard CWDM multiplexers and interface modules provide cost-effective wavelength bundling solutions for optical transport. CWDM reduces the cost of buildingout service networks by increasing the effective bandwidth of existing fibers and reducing the numbers of required fibers in cable installations.
CWDM (Coarse Wave Division Multiplexing) technology channels data from different sources at different bit rates and different protocols (such as ESCON, Ethernet, Fiber Channel, ATM) onto a single optical link, to be demultiplexed on the remote side.