WIZ-545
5 port switch, 4 ports 100BaseFX (MM, 1310nm, 11dB, 0-6Km VF-45), 1 port 10/100BaseTX. (2.0PU)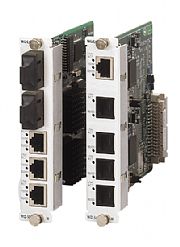 Optimized for surrounding and daisy chain F/O networks and star topologies
100BaseFX fiber ports supporting Multimode or Singlemode fibers
Full wire speed and half/full duplex support on all ports
Far-end-fault detection, flow control, broadcast control
VLAN support (optional)
Per port status LED indicators
Manageable
The WIZ-505 F/O switching module is optimized to address surrounding network applications (ring and daisy-chain topologies) mainly used in monitoring/surveillance systems, and for F/O switching centers using star topology.
Installed in the Media Wizard 16, 4 or single slot chassis,the WIZ-505 module provides a flexible solution for any scale and need.
The WIZ-505 includes two 100BaseFX and three 10/100BaseT/TX ports- 100BaseFX fiber ports are available with a choice of SC, ST, MT-RJ, VF-45 or LC F/O connectors for multimode or singlemode fibers supporting up-to 100Km.
The WIZ-505 is also available in single fiber (/SF) versions, releasing/saving expensive fiber, doubling the utilization. The switching module delivers powerful features usually found in high-end switches: full wire speed forwarding and filtering on all ports; 1k MAC addresses using automatic learning and aging mechanism; half/full duplex operation with flow control to allow 20/200Mbps bandwidth and minimize packet loss; broadcast storm control; optional port VLAN; 1Mb buffer memory; far-end-fault detection; auto-negotiation and MDI-X auto crossover.