WIZ-NMS/A
SNMP agent module for the Media Wizard and Wiz-Stack product lines.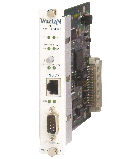 Remote in-band or out-of-band management and Telnet/CLI interface

Auto-identification of host chassis and slot contents

Power management including power-supply identification and power consumption

Chassis hardware monitoring including temperature, voltage and fan RPM

Event logging and storage of last 200 events

Configurable trap destinations

FTP firmware upgrade capabilities

Module/port zoom-in provides full setup and monitoring capabilities

Configuration storage for individual modules, for automatically restore in the event of power loss/ module replacement

Hot-swappable
Wiz-NMS/A SNMP agent slide-in module provides comprehensive management for WizLAN product lines. A set of standard and private MIBs provide advanced setup, control and monitoring capabilities. These are manageable using either standard MIB browsers or via WIZ-View/A - a rich Java based graphical administrative tool designed specifically for WizLAN products.